(CNN) -- A teenager whose arrest in a racially charged assault case drew thousands of protesters to his rural Louisiana hometown was in a hospital Tuesday after a suicide attempt, according to the police report of the incident.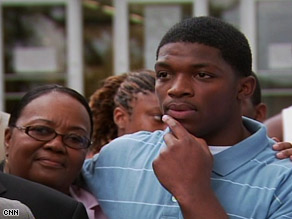 Mychal Bell was released in September 2007 and later agreed to a plea deal in the beating of a classmate.
Mychal Bell -- who also was arrested last week after allegedly stealing clothes worth $370 from a department store -- told investigators he shot himself "because he was tired of all the media attention" following the arrest, the report says.

Earlier, Bell's attorney, Carol Powell-Lexing, told CNN that Bell accidentally shot himself while cleaning a gun.
According to the police report, however, an officer responded to a 911 call from the home of Bell's grandmother, Rosie Simmons, where Bell lived. Simmons told the officer that she had hidden the gun Bell used in her closet "for Mychal's safety so he did not try to shot [sic] himself again."
Bell, 18, suffered a wound to the upper right chest, the report says. Powell-Lexing told CNN that Bell had surgery Monday night, and Monroe, Louisiana, police Sgt. Cassandra Wooten said the wound was not life-threatening.
In December 2006, Bell was one of a half-dozen black teenagers who faced felony charges in the beating of a white classmate in the town of Jena, Louisiana, an incident that followed months of racial tensions in the community of about 3,000 people.
The case of the "Jena 6" drew national attention from civil rights groups that said the charges were excessive, and an estimated 15,000-plus people turned out for a September 2007 rally on the youths' behalf.
Bell eventually pleaded guilty to battery in a juvenile court and later moved to Monroe, about 70 miles north of Jena.
On Christmas Eve, Bell was arrested at the Pecanland Mall in Monroe and charged with shoplifting, simple battery and resisting arrest, Monroe Police Lt. Jeff Davis said Tuesday.
Bell was released on $1,300 bond, and the case was assigned to city court.
Simmons and Bell's mother, Melissa Bell, told the officer who responded to this week's 911 call that they heard a gunshot from the teenager's room and found him on the bed.
"Rosie and M. Bell stated Mychal had made comments over the past two days that because of the current media attention he had because of a shoplifting arrest he did not feel like he could live anymore," the report says.
Monroe police Lt. Jeff Harris said investigators do not yet know whose gun Bell used.
Bell's Christmas Eve arrest came after security guards at the shopping center received a late-afternoon alert that Bell and a male friend were in a menswear section of Dillard's, where they were seen stuffing clothing into a Dillard's bag, according to the investigative report.
Once spotted, the men split up, police said. Bell, chased by security guards, ran from the store to a parking lot, where he tried to hide under a car, Davis said. As a store security officer tried to pull Bell out, "Bell swung his arms wildly" and hit the guard with his elbow, the report says. Davis said the guard was hit in the face.
Bell admitted to the thefts, which police said included four shirts and a pair of jeans, Davis said. The merchandise was photographed by store security and returned to stock, he added. Bell was taken to jail and booked. Davis said the second man escaped.
Powell-Lexing told CNN her client went to the mall with someone to return a shirt, for which he had a receipt. The person with Bell did the shoplifting, and Bell was caught in the middle, the attorney said.
Davis said he had not heard the attorney's details and couldn't comment.